VE3PU - March 31, 2013

---
Kenneth James Pulfer
Ottawa ON, Canada

QCWA # 11393
Chapter 70
PULFER, James Kenneth, VE3PU
Passed away Easter morning, March 31, 2013 at the age of 80, beloved spouse of Rolande and dear father of Suzanne (Michael), Charles (Christiane) and James (Barbara). He will be sadly missed by his four granddaughters, Stephanie and Chloe, and Savannah and Madison, and by his only grandson, Kennedy. He was the son of Charles and Marion of Winnipeg and is survived by his only sibling, Vernon (Wpg).

After graduating from the University of Manitoba with a Master's degree in Electrical Engineering, Ken started his career at the NRC where he remained for 37 years holding the position of Vice- President for the last 10 years. In 1984 he received an Honorary Doctor of Science degree from his alma mater.

During his retirement Ken worked for 16 years as a volunteer for Radio Amateurs of Canada and also for The International Amateur Radio Union travelling to Geneva several times a year.

According to his wishes there will be no visitation or service. Cremation has taken place and the disposal of his ashes by his family will be at a later date.
---
To the QCWA, Chapter 70 membership

It is with regret and deep sadness we advise of the passing of QCWA Chapter 70 member, *Ken Pulfer, VE3PU,* at his home in Ottawa on Easter Day after a short term illness. Ken was 80 years old.

As we all know, Ken was a remarkable gentleman and well respected for his tireless dedication to the promotion of the amateur radio service through his work over the years serving Radio Amateurs of Canada and the International Amateur Radio Union.

The ARRL has already written and posted a tribute to Ken; it can be read at: http://www.arrl.org/news/j-kenneth-pulfer-ve3pu-sk

Ken's obituary was posted today in the Ottawa Citizen newspaper and appears at: http://www.legacy.com/obituaries/ottawacitizen/obituary.aspx?n=james-pulfer&pid=163996474#fbLoggedOut

According to his wishes, there will be no visitation or service.

QCWA Chapter 70 has sent his wife Rolande flowers and a card of condolences.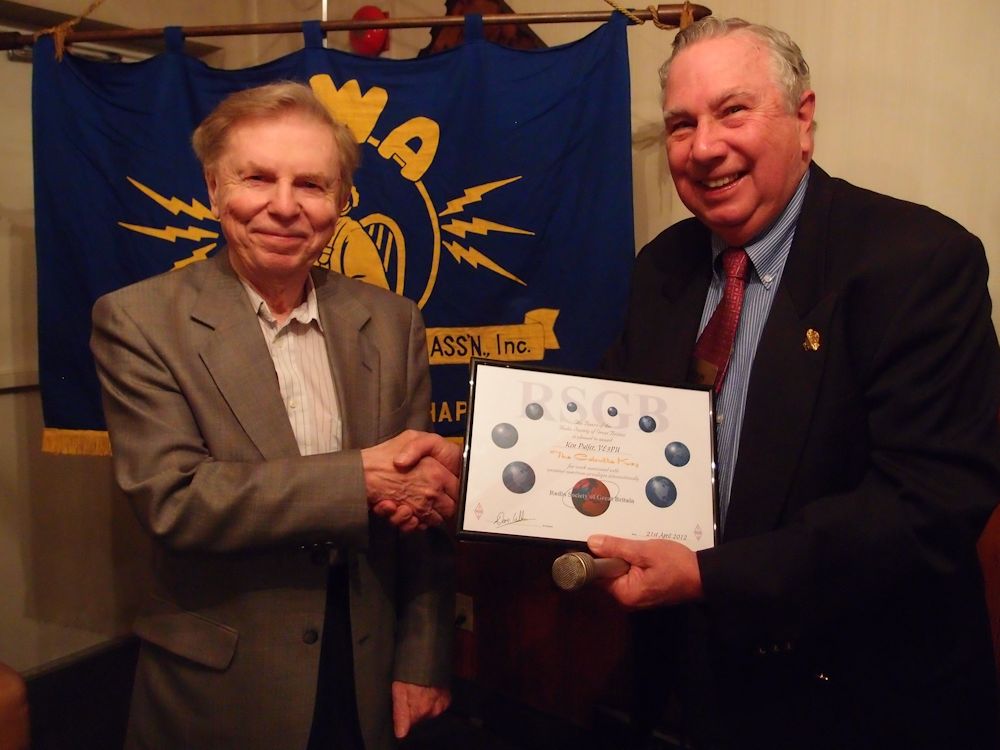 Ken being presented the RSGB "Calcutta Key" award by Bryan Rawlings, VE3QN at the May 2012 meeting of QCWA Chapter 70. This was awarded Ken for his outstanding contribution to the IARU that culminated in chairing the ITU Working Party 5A in preparation for WRC-12 and successes in achieving a secondary amateur radio allocation at 600 metres.

We'll all miss Ken greatly.

73 to all

Norm Rashleigh, VE3LC
Secretary, QCWA Chapter 70
Ottawa
www.qcwa70.org