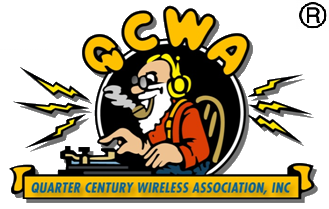 Australia
Chapter 47 - Sydney, NSW, Australia
Chartered July 11, 1969
---
From: QCWA News - Winter of 1974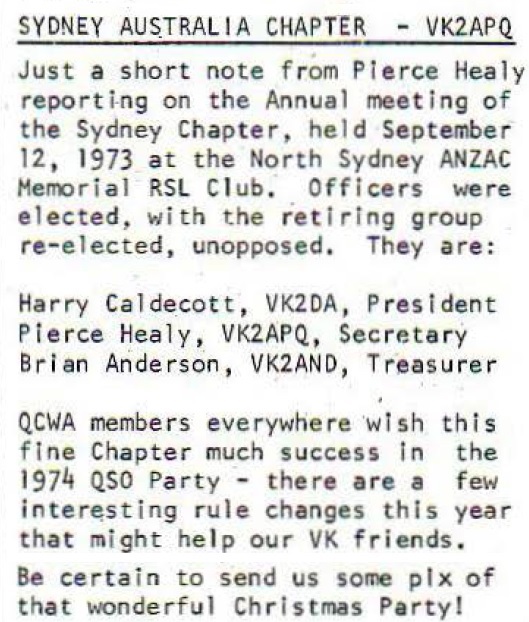 From: Electronics Australia 1978
QCWA XMAS PARTY: The Sydney Chapter-Quarter Century Wireless Association members held their Christmas dinner party in the Elizabeth Roo, ANZAC Memorial Club, North Sydney, on Thursday evening, 15th December, 1977.

Fifty-one persons, including members, their wives and guests, gathered for pre-dinner drinks and a very tasty dinner.

A welcome to the ladies and guests was extended on behalf of members by president Wal Webster, VK2EW, who introduced Lionel Swain, VK2CS, as toastmaster for the evening. Toasts were proposed to the QCWA by Frank Leverrier, VK2ADE, and to the ladies by Sel Weston, VK2SY.

Golden anniversary certificates were presented to Bert Hay, VK2AE, and Roy Hart, VK2HO, by the president. These certificates are in recognition of having being an amateur operator for 50 years or more.

Secretary Harry Caldecott, VK2DA, played a tape expressing best wishes for the festive season from Maurie Brown, VK20R/G2YP, to those attending the dinner.

It was estimated that there was around 1000 years of amateur radio experience among the amateurs attending the dinner.