Director 2017 - Present

K4JGA

Jose G. 'Joe' Ayala
516 El Dorado Way
Casselberry, FL 32707-5009

QCWA # 33681
Chapter 45


---
"SWL QSL ARE WELCOME" KPC4JGA Pop'Comm Monitoring Station
Thank you kindly for taking the time to look me up! I became an Amateur 'ham' radio operator in July 06, 1978 under the callsign WP4AQK, KP4-Land. My love for radios begun in my early years, late 1960's when my father brought home an old Hallicrafter Model S-38. Many Caribbean nights I spent listening to distant radio station.

In the mid-late 1970's I acquired a small CB-mobile, set up a home station, made some local contact and soon after my father applied and received the FCC license for CB'rs KAZW-8890. But, after while I realized this is not what I was looking for or hope for. I kept hearing about Ham Radio, Morse code, repeaters, countries, prefixes and whole bunch of Ham jargon, and then I discovered the difference between these two. In early 1978, I found after researching, a Radio Club for KP4. I attended the next meeting, then I enrolled in the Novice class and the rest is history.

In 2006, I applied & received my first vanity callsign K4ZZA after holding the same callsign for 25 years. Now, in 2008 my initial JGA became available and is my new vanity callsign K4JGA!

I mostly work CW and some SSB. My SSB is mostly to NTS Traffic Net, occasionally YL-System net, and late net for WAS on SSB when I am up to. My enthusiasm for CW was sparked by a friend, Daniel 'Danny' Ponce WP4F, who also set up my first 15 meter radio antenna, on the CW portion. Many, many wonderful contact I made with that small long wire 15 meter antenna back in the early 1980's. He later introduced me to William 'Willie' Werner KP4DJ (SK). What a CW operator he was! These 2 gentlemen-CW Operator encouraged me to stay focus while increasing my receiving CW speed. My CW -Code teacher was Sr. Felix Albert Cordero-KP4ZC, Don Felix thank you for your time, and patience with me and my classmate! The Novice classes were given back then at the Civil Defense HQ in Guaynabo and sponsored by Radio Club De Puerto Rico - KP4ID.

Main Interests - Mainly CW with some SSB activity as mentioned earlier, 'rag chewing', HF DX hunting (any mode I can find them!!), county hunter, semi serious contester, helping other 'hams' and teaching ham radio classes.

I'm a wallpaper chaser, and a serious DX hunter; mostly I.m a Lone Wolf operator. I'm in a listening, search and find mode. Getting very interested in all Digital Modes. I am reading and learning all I can about these modes. Started to get interested in ECHOLINK... very neat addition to any Ham Radio Station.

I collect and repair old/antiques radios-AM radios Pre-1960's. I do have a small personal collection of them. Tombstone, Cathedral, Low and Highboy, ect. Soon I will be posting some pictures of them at this site.

Proud Member of:
ARRL A-1 Club
FISTS CW CLUB-#12757
SKCC CW CLUB-#2378
LSSB-#16157
QCWA-#33681 & Citrus Chapter 41
AQCC-#5298
Ten-Ten International #76112
Lake Monroe Amateur Radio Society-LMARS
OMISS # 10358
FP# 3668
and some other fine Amateur Radio Organization!

I'm also an Official Relay Station - ARRL. I'm very active with the National Traffic System- Nets. I love handling traffic, you may find me on our local nets 147.285 SVTN Net - 07:15 PM - Orlando/Sanford area, Florida Mid-day Traffic Net "when conditions allow it", 4RN (at one point I was net control), some Caribbean HF-Traffic net and as well some other HF nets on a daily basis.

I am an ARRL- VEC Program Member

I hold the AMATEUR EXTRA CLASS LICENSE...
... did it the OLD FASHION WAY, STUDYING & WORKING THE BOOK!!!
THANKS GORDON WEST - WB6NOA!!!

MY QSL POLICY
I do reply ALL MY QSO WITH 100% QSL!!! No matter how many times I had worked the country, state, prefixes or county! It is the final courtesy; it says so much about the radio operator. Some of us still need them for awards purposes.

QSL cards are a very integral part of MY ham radio experience. Even with all the electronic methods of QSLing, I still prefer to "QSL paper" - to me, QSL cards are my collectible baseball cards!

YOU SHOULD REMEMBER HOW YOU FELT AND HOW ANXIOUS YOU WERE TO RECEIVE YOUR VERY FIRST QSL CARD! PAY THAT COURTESY TO OTHERS!

If You Need My State or County; for US Hams send me a card with or without a SASE. I will respond with my QSL Card 100%. I always appreciate a SASE or SAE, but if you cant afford it, just send me your card or email me and you will get mine.

US Stations, If I need your state or county, I will send a SASE with my QSL CARD, unless in your QRZ.COM stated that NO SASE is needed. Please have the courtesy to send me a card back! There are few states that have been uncooperative and I had sent out at least 4 or 5 of my QSL CARDS to get one back.

DX Stations - If I really need your country, I will send my card direct with appropriate $$$ to cover return postage. Please do not let this become a money making enterprise - some stations keep MY money and never return their cards (past experience). All other DX stations will be confirmed 100% via the bureau. If you need my QSL direct, I will appreciate 2 green stamp to cover postage. If I had your country confirmed I will send my QSL CARD via .burro., and I do send them every 6 month (January & July).

EQSL - it is nice but to be honest is worthless for awards! therefore... NO EQSL PLEASE!

Contest QSLs- I love contest! Although my main reason is for new countries, states and/or counties, never the less I will send my QSL cards as soon as I can, usually within 2 or 3 days.

LoTW - ALL READY SET UP!!!!

PERSONAL INTEREST
I am Master Mason, 3rd. generation - 32 degree, Member of South Seminole Lodge #364, Casselberry, Fl.,and Logia Loarina #17 - Bayamon, P.R., where I was raised as a Master Mason.

Collect Stamps, Coins, and old books and I sell, buy and trade them online.

Professor of Theology and a Christian radio show host. Hold a Doctorate degree in Divinity.

73, Joe K4JGA
Dr. JG "Joe" Ayala - ThM, D.D.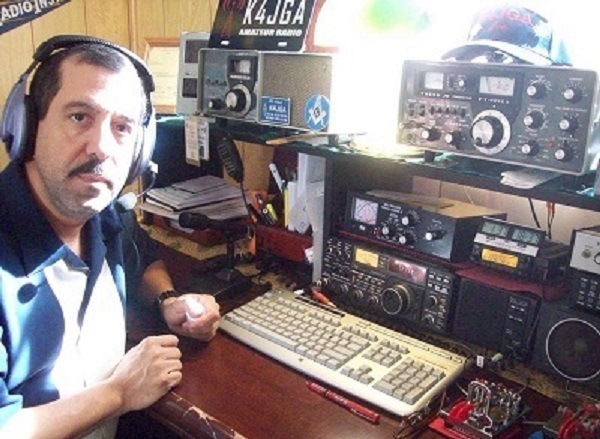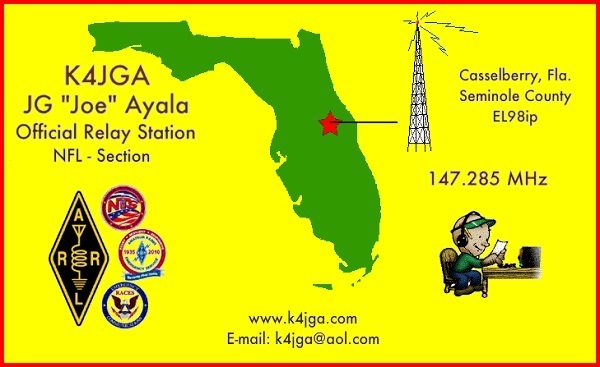 November 17, 2015