NO1PC

James 'Jim' Aspinwall
Campbell, CA

QCWA # 37993
First Call: WN9GVF issued in 1970 Other Call(s): WB9GVF K9GVF
---
First - the important stuff... I created and moderate a fantastic amateur radio Elmer forum on Facebook... https://www.facebook.com/groups/AmateurRadioElmers/ and maintain a web-site of solid ham radio reference information at www.No1PC.org. Let's get the most out of technology and community!

Home QTH? Let's just call it a multi-purpose shack and leave it at that. Two HF rigs, three scanners, one each Lo-VHF, Hi-VHF, UHF public safety radios. The 'rack' on the tower is supporting a local UHF repeater with VHF remote optional, HF, 4 dual-band VHF/UHF whips, a 6M vertical dipole, control yagi and weather station. Wire is suspended from a neighbor's tree and a 35 foot pole out back. 80/160 loop yet to be built, and I'm getting interested in creating a noise-cancelling RF system.

Between mobile and base operations I am casually 'chasing' 100 countries to record in the log book. The related 'awards' are far less interesting than simply having a quick chat with a 'neighbor' in Poland, Iceland, Kazan, Salzberg, etc. I grew up with a meager shortwave radio enjoying BBC, Radio South Africa, Voice of America, etc. One cannot get any more politcally neutral than home-to-home communications over wireless.

Licensed since 1970 - WN9GVF, Tech in 1971 - WB9GVF, Tech->General upgrade then Extra in 2005 - K9GVF. Callsign change to NO1PC 11 Oct 13.

With a varied history in PC technology from deep diagnostics to usability and support to global management and massive PC deployments "Number One PC" seemed a fitting match between hobby, avocation and career.

I built my first VHF repeater in 1971 out of a converted Motorola T43GGV. Charter member of the Madison Area Repeater Association, early member of Central Wisconsin Repeater Association. I've been building and maintaining and tower climbing (OSHA certified since 1991) for a variety of systems and sites ever since. Bring me lunch or one of Bill's infamous Bloody Marys and I'm at 100 feet with antenna and feedline before you know it. I *love* to climb. When you're on a first-name basis with a red-tail hawk - well, that's IT!

Career moves have taken me from Madtown through Chicago, DC/Virginia, Houston, Dallas/FtWorth and for the past 25 years Campbell, California. I've worked in medical instrumentation, scientific instrumentation, broadcast, commercial and public safety radio, technical marketing, software product management, leading up to my present career as an IT specialist working with client configurations, SCCM and operating system deployments. My current project (2013-2014) is to help orchestrate a massive WIndows XP to WIndows 7 migration for an international relief organization.

I served for 8 years as a volunteer firefighter/engineer in Alief and Colleyville Texas, transitioning that experience into working with the California Governor's Office of Emergency Services as a telecommunications deployment specialist. I've been through ice storms, blizzards, tornadoes, hurricanes and a nice little earthquake "welcome to California" in 1989. Nothing like looking trouble in the eye... and having it back down.

I've lived in Campbell since 1992, helped our then-County neighborhood win a 7-year battle with the City of San Jose to get them to let go allowing us to be annexed to Campbell. I've been a CERT trainer and now foster the program and communications planning with Campbell and local CERT teams and the local ARES/RACES team. My wife Kathy finally fulfilled her end of a deal and got her Tech license last year - KG6WAZ, now N1KAA.

I own/operate several UHF repeater systems in the area - CalNet 443.750, Campbell 442.175, an iconic site in San Francisco on 441.025, GMRS - as well as full HF capability at home and mobile/portable (which makes every outing with our Airstream a mini-Field Day.) My shack has enough ham and public safety capability to function as a mini-EOC for local to State emergency traffic.

You may find me variously on a chat net on 14238.5 at 7AM Pacific time, the Pacific RV Services net, or just about anywhere tuning around looking to snag some new (to me) DX.

Mobile gear is a Yaesu FT-857 and TarHeel M-100HP on "Godzilla 2". At home I am very happy with my Flex-6300 and Ameritron ALS-500M. Home antennas are now just an 80/40 trap dipole, a 5BTV vertical, and a TA-36 'monster' at 36+' (fed by 1/2" Heliax, just because I re-use whatever I recover from various sites [with permission].)

My home office appears to be less-radio than computers... but it's what you don't see that counts. Everything is designed to run off a trickle-charged bank of batteries.) I am a Heil nut - minimally used Bob's innovations in live performances... love the style and output. Go Heil or go home!

73!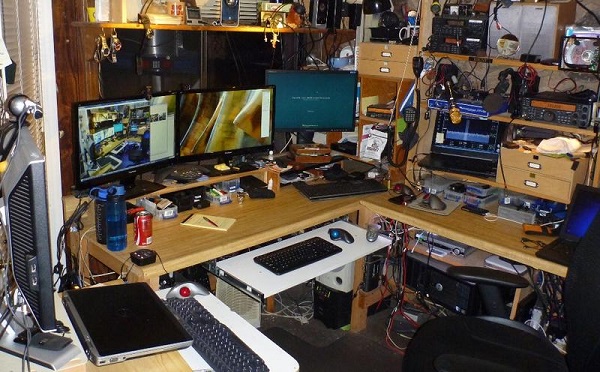 May 12, 2019