Scholarship Chair 2005 - 2012

W4YE

Leland 'Buddy' Smith Jr
Wirtz, VA

QCWA # 11461
Chapter 202, 91 and 120
---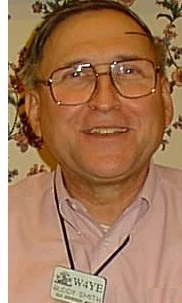 My father encouraged me to get into amateur radio while we were in California during the Korean conflict. He took the Amateur Extra exam as I took the Novice test at FCC in Los Angeles in April 1952. He was K6CN at that time.
My licensed showed up in June 1952 with the station call sign of WN6QPC. My first transmitter was a 6AG7/6L6 running 30 watts on 80 meters. The rcvr was made by Howard.
I enjoy QCWA, ARRL, FOC, FISTS, rag chews, contesting, dx, ARRL cw nets, OOTC and a local radio club. I've been Chairman of QCWA Scholarship Committee since 2005. I'm a Life Member of the ARRL, QCWA, OOTC and QCWA Chapter #202 (Old Dominion) and #91 (Vic Clark). Currently I'm President of Ch #202 and Ex secretary and president of Chapter #91. Trustee of QCWA Chapter 202 Club Call, W5KL, Leland Smith, Sr. Memorial Station.
My brother K. Victor Smith is W4AGI. Licensed in 1955. My brother and I are proud holders of our father's original calls (1930); W4YE and W4AGI.
I served in the USMCR from 1956 to 1962 in the enlisted ranks. I received a B.A. from Wake Forest College and a M.Ed from the University of Virginia. I retired after 31 years in public education in Virginia as a teacher and administrator.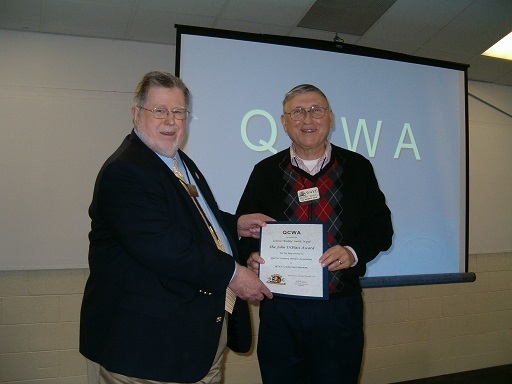 Vic, W4VIC present a 'John DiBlasi Award' to Buddy
June 22, 2008