W9ROG

Roger G. 'Rog' Callewaert
Racine, WI

QCWA # 38330
First Call: KB9JIF issued in 1995 Other Call(s): VQ9O HS0ZGA
---
I looked forward to operating from DX locations while deployed with the military. Unfortunately after 24 Years as a Military Policeman/Security Forces Leader, now retired, I have to pay for my own trips. I enjoy contesting, operating from overseas locations, DX, IOTA, county hunting and now FT-8.

A little about my radio background: I attained my Technician license as KB9JIF in 1995 after learning of the hobby from fellow co-workers. I upgraded in 1996 to General, changed my callsign to W9ROG in 2001 and finally upgraded to Extra after learning code (28 wpm) in 2006. I am the former president of the Greater Milwaukee DX Association, a life member of the ARRL, The Radio Amateur Society of Thailand (R.A.S.T.), The Philippine Amateur Radio Association (P.A.R.A.) and 10-10 International. I have attained my 5-Band DXCC with endorsements on 12, 17 and 30 meters (working on 160). 298 of 299 countries confirmed, 6 meters VUCC, USA-CA and 20 meters WAC & WAZ. I also have acquired my 5-Band WAS with endorsements on 17, 30 and 160 meters (working on 12). Additionally, I have 1453 confirmed band/entities in the DXCC Challenge. Next up, I will concentrate on my IOTA submissions and then maybe start working some satellites and other digital modes.

I have been extremely privileged by being able to operate through the military as: HS0ZGA, YS1/KB9JIF, PJ2/W9ROG, A4/W9ROG, A7/W9ROG, A9/W9ROG, HZ/W9ROG, TA/W9ROG, and VQ9OG winning and holding the current world record for SO SSB LP in the 2004 ARRL 10 meter contest as VQ9OG, winning the 1996 ARRL 10 meter contest SO/PO/LP while deployed to Arizona as KB9JIF/7. It was my pleasure to give out over 6,000 contacts on Diego Garcia in the Chagos Archipelago while I was deployed there with the Air Force as VQ9OG. On the civilian side, DU1/W9ROG, HS0ZGA and BV0J in the 2012 CQ WW WPX contest accumulating 6,963,698 points, winning Taiwan and coming in #3 in Asia and #22 in the world MO/MT, then BW/W9ROG in the 2014 CQ WPX contest with several other major contest first place finishes, numerous smaller contest first place finishes with a clean sweep in the 2013 ARRL Sweepstakes and much much more to come.

Back in 1999, I discovered the 3905 Century Club and after a little more than a year of struggling with a vertical antenna and no power, took an appoximately 12 year hiatus. After erecting a "real" antenna and acquiring some power, returned to the friends I made in the late 90's. I am now the 9th Area Director for the club. They are a great bunch of guys and gals, so stop by if you get a chance and say hi (www.3905ccn.com).
ARRL / RAST / PARA / 3905 Century Club / SMIRK / 10-10 / OMISS / QCWA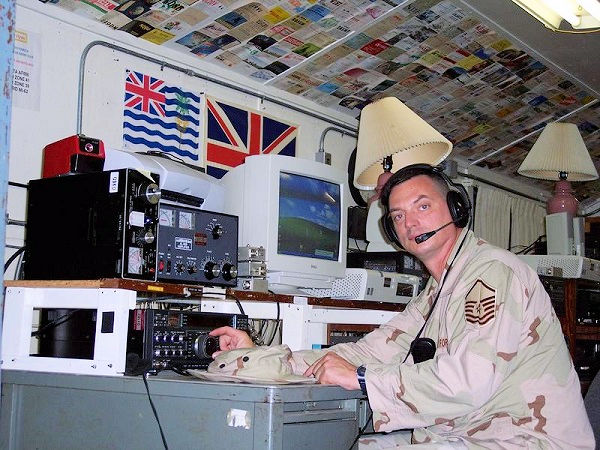 September 07, 2020